Stained Glass, Eglise St Orens, Montauban
For one reason or another we haven't done much in the way of cruising this year. We've needed to have decent access to internet without bankrupting ourselves so a big thank you to Moissac, Castelsarrasin, Montech and Montauban for including wifi in the port charges. Plans have had to been researched, arranged, changed and changed again. All will become clear in time.
As for the weather - the less said the better really. I've had full waterproofs on for the first time in years. Not at all what you'd expect in southern France in June but at least we can tie up and sit it out for days (weeks) without feeling too cheated unlike those on expensive hire boat holidays. The canals are full to overflowing and the rivers are closed to navigation due to the fast flow. At the moment we are sitting just above the double lock leading down onto the River Tarn and the canal water is flowing over the top of the lock gates at quite a rate.
Lower of double lock onto River Tarn
Having said that, the Tarn, whilst flowing fast, is still confined within its banks which hasn't always been the case. There is a flood marker beside the lovely Pont Vieux (Old Bridge.Very old in fact, 14th century) showing the height of the flood of March 1930 - 12 metres. 25 people drowned, more than a thousand homes were lost and 10 000 made homeless. Many more might have lost their lives had it not been for the bravery of others taking to their canoes to rescue them. One in particular, a young man named Adolphe Poult is said to have rescued more than 100 before his own canoe overturned and he was drowned. There is a fine stained glass window in the church of St Orens close to the riverbank depicting the scene.
Further downstream Moissac was also badly affected with 120 losing their lives and 6000 becoming homeless.
Pont Vieux Montauban
Today we were extremely saddened to read of the destruction by fire of the beautiful, unique, Charles Rennie Mackintosh designed, School of Art in Glasgow. I hope that it can somehow be saved. Here in Montauban there is a very famous museum - the Musee Ingres- about which people keep saying to us, 'There's a great museum in Montauban. Pity it's closed.' Closed it is indeed; its renovations due to be finished at the end of 2019. The museum was housed in a mainly 17th century (although some parts much earlier) bishops' palace at the city end of the Pont Vieux. I had a look at it yesterday and renovations seems a bit of an understatement. They've already been going on over a year and the building looks to be completely gutted - just the walls standing. A huge undertaking but considered worthwhile as part of Montauban's history. It had previously been renovated at some expense in the 1950s. So, let us hope that Glasgow's School of Art is similarly cherished and every effort is made to rebuild.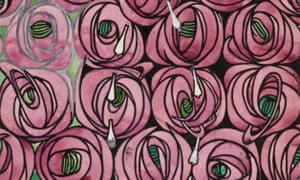 Charles Rennie Mackintosh - rose and teardrop